June 2, 2021
K-State radio station Wildcat 91.9 honored with two national Telly Awards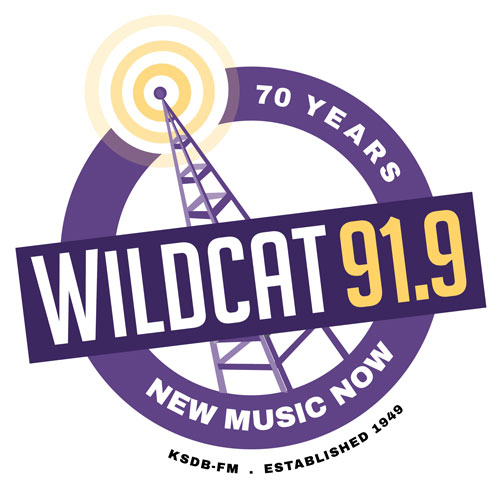 In keeping with the multiplatform educational goals of the A.Q. Miller School of Journalism and Mass Communications, radio station Wildcat 91.9 KSDB-FM took home two bronze Telly Awards at the 42nd Annual Telly Awards in New York City on May 24. The Telly Awards annually showcases the best work created within television and across video, and for all-size digital screens, by some of the most respected advertising agencies, networks, television stations, production companies, and publishers from all 50 states and five countries.
Because it produces much of its own video content, Wildcat 91.9 — the oldest, continuously running college FM radio station in the United States — won bronze statuettes in the categories of "Local TV Campaign: Not-for Profit" and in "Local TV Campaign: Promotional" for a series of humorous commercials promoting Wildcat 91.9, online listening, and the Wildcat 91.9 App.
Due to COVID social distance restrictions, the videos were recorded in front of Dole Hall's green screens and edited on JMC Apple workstations. The DIY aesthetic was designed by producer/writer/director Ian Punnett, who is a JMC professor of practice and the chief operator/faculty advisor for Wildcat 91.9. Other winners in these national categories included Univision, Cox Media, and various small-to-medium size network television affiliates.
"Of the more than 12,000 entries for this year's Telly Awards, Wildcat 91.9 was the only radio station in the country to be awarded a Telly for its in-house digital production — and a college, new alternative and hip-hop music station at that. But this is what we do," Punnett explained.
"Really, this is a huge deal," said Andrew Smith, K-State multimedia news director. "I hope others realize its importance. This shows the tremendously well-rounded media education and opportunity provided by the A.Q. Miller School and Kansas State University."
The Telly awards come two months after Wildcat 91.9 also was honored for its video work at the 2021 BEA Festival of Arts in Las Vegas. Punnett used the same team for each project: Andrea and Rachel Browne as talent — class of 2020 — and former JMC adjunct instructor Avery Osen as assistant director/editor.
The Telly Award-winning videos can be viewed at wildcat919.com/TVspots.