May 14, 2021
College of Education memorializes diversity legend James B. Boyer with exhibit
Submitted by Communications and Marketing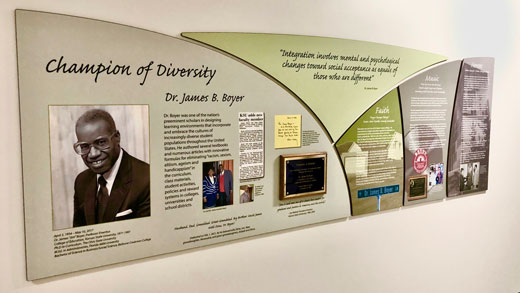 An exhibit memorializing the late James B. Boyer, the College of Education's first African-American full professor and one of K-State's original champions of diversity, was unveiled May 12 in Bluemont Hall, the place where his legacy lives on.
Boyer was one of the nation's preeminent scholars on designing learning environments that incorporate and embrace the cultures of increasingly diverse student populations throughout the United States. He authored several textbooks and numerous articles with formulas for eliminating "racism, sexism, elitism, ageism and handicappism" in the curriculum, class materials, student activities, policies and reward systems.
Titled "Champion of Diversity," the permanent exhibit was a collaboration among Debbie Mercer, dean of the College of Education; Boyer's son, Alan, a K-State alumnus and visiting professor in the A.Q. Miller School of Journalism and Mass Communications; and Roy Garrett, a Manhattan artist.
"Dr. Boyer was truly a renaissance man — a visionary on so many fronts," Mercer said. "Decades ago, he developed formulas to address issues that we are grappling with to this day. My greatest hope with this exhibit is that it serves to remind future teachers of what profession they are entering, what is expected of them and that they are walking in the footsteps of giants."
The exhibit features information, graphics, images and artifacts that bring to life Boyer's dedication to faith, family and the church he founded in 1976 in Manhattan and his career as a gospel music recording artist. Alan Boyer also hopes it inspires future generations of aspiring teachers — a group his father considered heroes — for students in rural, suburban and urban communities around the country.
"My father loved teaching, the church and gospel music," Alan Boyer said. "My mother and I are so honored that the College of Education and the university will remember him through this wonderful tribute to his life on campus and in the Manhattan community."
K-State's commitment to diversity and inclusion has its roots in Boyer's vision for the university. K-State recruited Boyer in 1971 as the first African American graduate teaching professor in the College of Education. Boyer was a confidant to administrators, faculty and staff; a coach to student leaders; and an authentic example of integrity and dedication for his colleagues and friends on campus.
"Jim is and was one of K-State's best orators for goodness and justice in America and the world," said Jon Wefald, former K-State president.
Boyer was born in Winter Park, Florida, on April 3, 1934, and died May 10, 2017. His wife of 60 years, Edna, lives in Manhattan. His son, Alan, lives in Duluth, Georgia, with Boyer's granddaughter, Alexandria, and two great-granddaughters, Aniyah and Olivia.