March 31, 2021
Sarah Ray to speak on climate anxiety and activism at 5 p.m. Thursday, April 1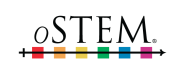 oSTEM, or Out in STEM, at K-State, a registered independent student organization, will host a talk by Sarah Ray at 5 p.m. on Thursday, April 1, via Zoom. Ray will discuss the intersection of climate anxiety and climate activism as well as strategies to combat climate anxiety.
Ray is the author of "A Field Guide to Climate Anxiety: How to Keep Your Cool on a Warming Planet," a book which was recently the topic of an oSTEM @ K-State book discussion, and is the program leader of the Environmental Studies Program at Humboldt State University.
To get the Zoom invitation for this event or to learn more about oSTEM, please email Lauren Konrade at lakonrad@k-state.edu.