March 9, 2021
Blaine Merker to present APDesign Ekdahl Lecture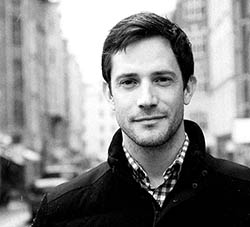 Blaine Merker, partner and managing director for Gehl, will present "Designing for life: How to create cities with people at the center" as part of the College of Architecture, Planning & Design's 2020-2021 Ekdahl Lecture Series at 4:30 p.m. Wednesday, March 10. The lecture is partially funded by the K-State Student Governing Association fine arts fee, along with sustained support from the Ekdahl family. This event is presented virtually and is free and open to the public.
"City design is awash in big data, but the most important information for building equitable, enduring and soulful places is what you can gather by carefully watching people," Merker said when discussing his topic for the lecture. For more than 40 years, Gehl has been developing methods based on social sciences to inform design and transform cities by putting people at the center of design and planning. Merker will share his process for creating people-centered public spaces rooted in understanding daily life, social behavior and the unexpected ways that human beings adapt the city to meet their needs.
Merker leads the U.S. West Coast practice at Gehl, an urban design and strategy consultancy based in Copenhagen, New York and San Francisco. As partner and managing director, he oversees a hybrid practice using behavioral science to inform design. He's committed to championing public spaces as sustainable technology for economic opportunity, health and social belonging in a diverse society. He co-founded the art and design collective Rebar, Park(ing) Day, and has worked with clients ranging from community groups to tech giants. He earned his master's in landscape architecture from the University of California, Berkeley and a bachelor's degree in history from Reed College.
View a full listing of the 2020-2021 Ekdahl Lectures and virtual links.
The Oscar S. Ekdahl Distinguished Lecture Series in Architecture and Design brings the finest professionals in the design and planning disciplines to APDesign and the K-State community. These individuals are selected to avail faculty, staff, students and regional professionals to the potency of design and planning in addressing the issues we face as a global society. The series honors Oscar Ekdahl who received his Bachelor of Architecture from Kansas State University in 1933 and was a founding partner in Ekdahl, Davis, Depew, Persson Architects PA in Topeka.