December 10, 2020
K-State Polytechnic mourns loss of Dennis Kuhlman
Submitted by Communications and Marketing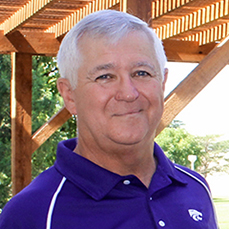 Former longtime CEO and dean of Kansas State University Polytechnic Campus, Dennis Kuhlman, died Dec. 7 due to complications of COVID-19.
Kuhlman served as CEO and dean of the Salina campus from 1997 until his retirement in 2012, leading the campus's enrollment growth and its establishment as an aviation industry leader. He also grew campus facilities, including the addition of the Student Life Center, which opened in 2009.

"We are saddened by the loss of Dennis Kulhman who served Kansas State University over a long and distinguished career," said Richard B. Myers, university president. "His leadership helped establish our Polytechnic campus in Salina as one the preeminent aviation and applied technology institutions in the country. The university is in a better place as a result of his vision and dedication."

Under Kuhlman's leadership, the Salina campus played host to the team that sent Steve Fossett on a nonstop solo flight around the world in the Virgin Atlantic GlobalFlyer in 2005. The event drew international attention to the campus.

"Our hearts ache at the news of Dr. Kuhlman's passing," said Alysia Starkey, CEO and dean of Kansas State Polytechnic. "Dennis' calm and steady leadership built the foundation for the enduring partnership that exists between Kansas State University and the community of Salina. His passion for K-State, aviation and engineering helped develop our campus into what it is today. His legacy is forever etched in the lives of the students, faculty and staff blessed to have been in his care. Our deepest sympathy to his family and those fortunate enough to know him as a colleague, mentor and friend."

"Our world lost a remarkable human being," said David Delker, associate dean and professor emeritus at K-State Polytechnic. "I had the privilege of working with Dennis Kuhlman for 15 years on the Salina campus. Without a doubt, he was the most effective boss I ever had. More than being just a boss, he was a terrific team leader, role model and mentor to me and countless other faculty and staff. He became one of my closest friends and I'm deeply saddened by his passing."

Before joining K-State Salina Kuhlman was an extension agricultural engineer on the Manhattan campus. He joined K-State in 1977 and he served as president of the K-State Faculty Senate in 1994-1995.

"K-State Salina has made much progress in its transition from a technical college to becoming a part of a major land-grant institution," Kuhlman said when announcing his retirement in 2012. "It has been a delight to participate in and observe the change in the campus atmosphere as we grew from a technical college to a university campus."
Kuhlman received his bachelor's and master's degrees from K-State and his doctorate from Oklahoma State University, all in agricultural engineering.
Memorials in Kuhlman's honor may be donated to the Dennis Kuhlman Student Activity Fund through the KSU Foundation; Ashby House in Salina, which helps empower homeless families and individuals; or Redeemer Lutheran Church in Salina.