December 10, 2020
College of Education magazine outlines pandemic-inspired actions and programs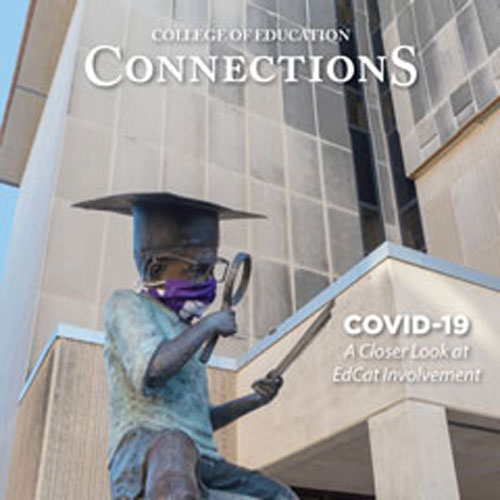 The College of Education has produced its annual magazine Connections, and the theme centers on COVID-19 and the faculty's support for students and educators from Kansas to Australia.
"There are many voices and perspectives represented in this issue of Connections, and I am exceptionally proud of what the College of Education faculty accomplished," said Debbie Mercer, dean of the college.
The theme is "COVID-19: A Closer Look at EdCat Involvement," and Mercer addressed the sentiments educators experienced due to the pandemic.
"There was discomfort in all of this, but it also fueled teachers' legendary creativity, problem-solving and teamwork," Mercer wrote in her column. "The same occurred in the College of Education. Through the laughter, the uncertainty and frustration, we taught."
The magazine includes a mix of feature articles and columns.
"Drs. Christy Craft, Todd Goodson, Judy Hughey, Jerry Johnson and Roger Schieferecke offer tremendous insights in their columns," Mercer said. "This magazine is a collection of stories and voices that were united by editor Patrice Scott and brought to life by our ever-talented graphic designer Mary Hammel."
Feature articles in this issue include:
Producing a video about the Wamego School District's transition to remote teaching.
Conducting research about teachers' experiences during the first six weeks of remote teaching.
Creating professional development sessions for Manhattan-Ogden USD 383.
Developing a summer workshop for educators that seamlessly blended technology, pedagogy and equity.
Expanding learning opportunities in rural schools by securing grants for robots.
Building a free remote learning P-12 community for parents, teachers and school counselors.
Filming a documentary on Kansans Can School Redesign and including COVID-19's impact on schools in the throes of redesign.
Collaborating with rural school leaders in Kansas, Pennsylvania and Australia.