January 30, 2013
Super Bowl champion, College of Education faculty member becomes game changer for K-State's students, athletes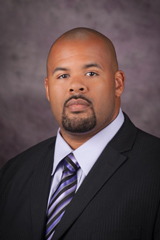 As the teams prepare to take the field for Super Bowl XLVII, a former Super Bowl champion who recently joined the College of Education faculty is now helping K-State students and student athletes.
Albert Bimper Jr., assistant professor in the department of special education, counseling and student affairs, with a focus in student services in intercollegiate athletics, joined the faculty in August 2012.
"Albert brings a unique blend of personal experience and academic background to this position as he prepares master's-level professionals to work with college student athletes," said Ken Hughey, department chair.
Bimper was an offensive lineman on the winning 2006 Indianapolis Colts Super Bowl team. The 29-year-old academician has written two books and published numerous scholarly articles concerning his research interest on the intersection of race, sport culture and education. He earned a bachelor's from Colorado State University, a master's from Purdue and a doctorate from the University of Texas.
Bimper credits his professional direction to Jeffrey Shears, a former faculty member at Colorado State now at UNC-Charlotte, who took him under his wing. That is his motivation for helping student athletes today, a path that started with his first snap of the ball.
He started playing football in high school in Arlington, Texas, where he lived with his dad, Albert; his mother, Debra; and sister, Courtney. His dad, a truck driver, discovered his son was playing the sport when he read about him in the newspaper.
"I started playing football in high school against my dad's wishes because he was afraid I'd get hurt," he said.
Bimper played defensive line and started on varsity his sophomore year. "I loved it – loved it," he said. He wasn't fortunate enough to play for a perennial winning high school football program. In fact, the varsity team only won two games during Bimper's high school career, both of which happened in his senior year.
As his high school career was coming to a close, he wondered what was next. "I just didn't know what to do after high school," Bimper said. "We weren't a winning program. I didn't have any guidance on how to get to college except for playing ball. I wasn't highly recruited, and no one was sending out tapes for me. I didn't have that level of advocacy. Interestingly, I was late to the meeting with a Colorado State recruiter because I was putting in an application at UPS."
Bimper signed on at Colorado State, and just like much of the state's terrain, his professional track was uphill.
Bimper fell into an all too familiar trap his freshman year. "I bought into the concept of being an athlete before a student." He admits to having fun – lots of it. "I lost focus on what I should have been doing in the classroom," he said.
That's when Shears took him under his wing.
"He made me realize there were other things I wanted and needed to do," Bimper said. "He had an open-door policy and was just there for me. He started telling me about graduate school. 'What was that,' I wondered. He told me to get into grad school I had to improve my GPA and be just as committed to my success off the field as I was on the field."
Things were going well for Bimper until he tore his hamstring and didn't play the second half of the season his senior year. Once again, it was his professor and mentor who helped Bimper understand the gravity of the situation.
"He explained that I was injured and was playing in a conference that is often overlooked. What options did I have? That was the big moment for me."
Because Bimper had built strong relationships, he learned he had options. "That's when they told me about an internship at Purdue," he said.
The Purdue option allowed him to finish his degree by completing courses while training for the NFL Combine, the league's weeklong scouting camp, with the strength conditioning staff after hours.
"I had to be committed to fulfilling my degree requirements while being equally committed to training for a possible career in the NFL," Bimper said. "Looking back, the coaches offered me a great opportunity to train for a possible career in the NFL. But I had to take advantage of the opportunity to train and complete my degree."
The Indianapolis Colts picked him up. "Out of about 26 of us, they kept six following my first training camp," Bimper said.
Besides playing on a Super Bowl-winning team, Bimper says he's deeply appreciative for the guidance he received and learning very early on that if he worked hard both on and off the field, he would enjoy success.
"I am grateful every day when I show up at this building," Bimper said referring to Bluemont Hall. "I smile every morning on my drive to work looking at the faculty tag hanging from my rear view mirror," he said.
Now, Bimper hopes to serve as a mentor and guide to both K-State students and student athletes.
"It's funny to see their reactions when I walk in a room because I've written books, have a Ph.D. and played for the Colts," he said. "They are so surprised because I'm so close to their age. What I want them to know is they can do it, too. They need to stay focused and find their passion and be given some positive guidance and direction. I had help finding those things out, and it's my turn to be the faculty member who can help them. That's what I hope to accomplish through my position in the college."
Bimper and his wife, Nsisong, their son, Albert III, and dog, Popeye, live in Manhattan.