April 17, 2020
Johnson Cancer Research Center presents virtual awards banquet to recognize students, donors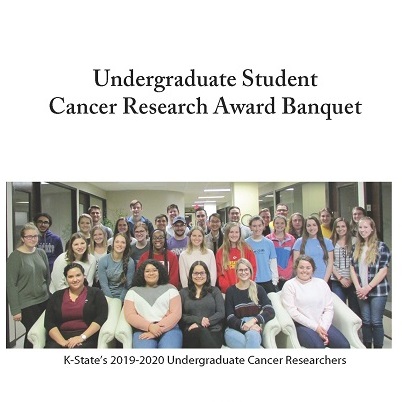 Due to the COVID-19 pandemic, the Johnson Cancer Research Center at Kansas State University had to cancel its annual Cancer Research Award Banquet, originally scheduled for April 17. As an alternative, the center created the Virtual 2020 Cancer Research Award Banquet on its website.
Every fall semester, up to 50 undergraduate students are selected to receive Cancer Research Awards. The award banquet recognizes those students, their faculty mentors and the donors who make the awards possible.
Last fall, 42 students were selected. The 2020 virtual award banquet presents all the awardees and their awards and donors.
The Cancer Research Award program promotes student participation in laboratory research and encourages students to consider careers in cancer research and medicine. The awardees conduct faculty-mentored research projects and receive $1,500 awards. The faculty mentors receive $1,000 per student to cover research expenses.
The Johnson Cancer Research Center supports the research and training of its affiliated faculty, undergraduate and graduate students and postdoctoral fellows. All programs are funded through private gifts.