April 6, 2020
Safe Zone advanced trainings for Sexual Assault Awareness month
In partnership with Safe Zone, the Center for Advocacy, Response and Education, or CARE, is hosting a series of advanced Safe Zone trainings throughout April in honor of Sexual Assault Awareness Month, or SAAM.
Sexual assault remains a widespread problem that cuts across all institutions, communities and populations. This month marks a clear declaration to join as active bystanders in taking action to prevent and end sexual violence. Below is the master SAAM Safe Zone flyer highlighting all the presentations that will be offered.
A flyer advertising each week's training will be included in K-State Today every Monday. All presentations will be prerecorded and included in K-State Today every Friday and will include any PDFs and supplemental material used during the presentation. You will be able to view each presentation at your leisure. We are working to develop a short feedback form we request you fill out after watching the presentation(s). This feedback form will allow CARE to document the number of participants the presentation(s) are reaching, along with any suggestions/feedback you may have.
If you wish to show any of these presentations to your department staff or online course, we ask that you contact Jessica Henault at jhenault@k-state.edu with your department/course name and number of participants viewing the presentation(s). Again, this helps CARE understand and document who the content is reaching for data analysis.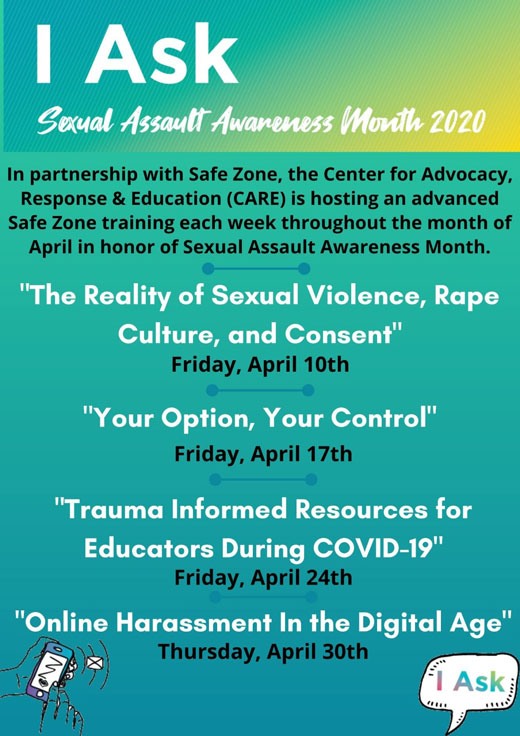 Safe Zone and CARE are hosting trainings throughout April that will give K-Staters the ability to implement lessons learned into everyday practices. Ending sexual violence requires the support of every K-State community member. This commitment to making K-State a safer, more accessible and equitable environment is greatly appreciated.