April 1, 2020
K-State Sales Team takes home first place individual and places third as a team in the National Collegiate Sales Competition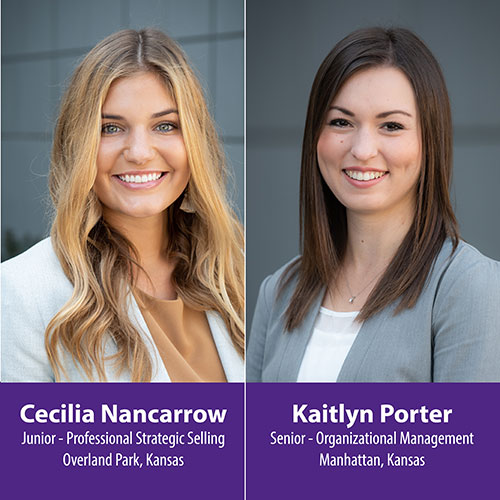 The K-State Sales Team competed in the National Collegiate Sales Competition, or NCSC, on March 27-30 through a virtual environment. With Gartner as the 2020 NCSC product sponsor, there were 68 universities and 133 competitors participating. The team took home the top honor in the individual competition and placed third overall in the competition.
The NCSC is the longest-running university sales role-play competition in existence. It is also the most prominent sales role-play competition for college students who wish to pursue careers in professional sales, while providing students with unparalleled sales training. This event was moved from an in-person competition to a completely virtual environment due to the recent concerns of COVID-19. However, that didn't stop the NCSC team from organizing, once again, a spectacular event.
The K-State Sales Team had two students compete in the competition. The team consisted of Kaitlyn Porter, senior in organizational management, Manhattan; and Cecilia Nancarrow, junior in professional strategic selling, Overland Park.
Students competed in role-play scenarios selling Gartner to various industries. Each role-play was 20 minutes where students uncovered the needs of the prospect and sold them on the value Gartner could provide. Nancarrow placed first in the competition. Porter advanced to the quarterfinals, placing in the top 32.
"I want to thank Terry Loe, professor of marketing at Kennesaw State University and executive director of the National Collegiate Sales Competition, as well as Gartner and many others for still providing this opportunity for our students," said Kellie Jackson, managing director of the National Strategic Selling Institute and sales team coach. "It was great to see everyone transition to this new learning experience while remaining adaptable and flexible. Even though we couldn't attend or be together in person, I'm extremely proud of our students' efforts and celebrate their success with them."
The K-State Sales Team is in the College of Business Administration's National Strategic Selling Institute, which has been named one of the top sales programs in the country for eight straight years by the Sales Education Foundation. The team consists of students who are enrolled in the certificate or major in professional strategic selling. In fall 2018, Kansas State became just the 19th university in the U.S. to offer a major in professional strategic selling. Students can also earn a certificate in professional strategic selling, which is open to all majors at the university. The professional strategic selling program introduces students to the fundamentals of sales and through the innovative curriculum and sales labs allows students to develop the skills needed to be successful.

The K-State Sales Team will be competing in several competitions throughout the school year across the country. For more information on the National Strategic Selling Institute or the K-State Sales Team, please contact kstatesalesprogram@k-state.edu.