March 3, 2020
'Growing our Mindset' forum to discuss diversity in the workplace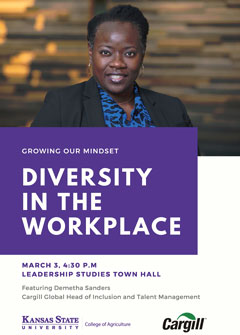 In celebration of Women's History Month and the importance of inclusion and diversity, the College of Agriculture's student leadership will present the spring 2020 diversity forum, "Growing Our Mindset: Diversity in the Workplace," from 4:30-6 p.m. Tuesday, March 3, in Town Hall at the Leadership Studies Building.
This forum is designed to engage students and faculty members in an open dialogue and presentation regarding diversity and inclusion in academic, professional and everyday settings.
The event will feature Demetha Sanders, Cargill global head of inclusion and talent management. Sanders will discuss the importance of maintaining a diverse team in the workplace.
Light refreshments will be served. The student groups leading the event include College of Agriculture Ambassadors, Ag Student Council and the K-State MANRRS Chapter. The College of Agriculture asks that you join in this vital conversation about diversity. We also thank our partners DMSA, the College of Agriculture/KSRE, and the College of Agriculture/KSRE Diversity Programs Office for their continued support. We hope to see all of you at 4:30 p.m.