February 24, 2020
Students bring K-State top honors in 2020 NEXT Competition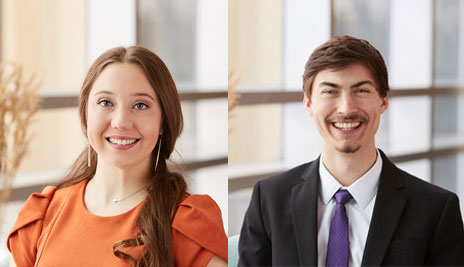 Chloe Cudney, a fourth-year master's student in interior architecture & industrial design in the College of Architecture, Planning & Design was named winner of the seventh annual NEXT Competition sponsored by Steelcase.
Cudney, Marysville; Reid Thornburg, also a fourth-year graduate student in interior architecture & industrial design from Lenexa; and three other semifinalists traveled to Steelcase in Grand Rapids, Michigan, to meet with a panel of judges and compete in the competition. 
All five students presented their projects to the judges, defended their concepts and communicated their design decisions with a Q&A that followed. Each student far exceeded the panel's expectations and it was a very tough decision for the judges; however, it was ultimately Cudney who prevailed. 
Coming into the final presentations, each semifinalist was on equal footing. The next stage of the decision-making process was based on the ability of each student to clearly  articulate how their solution fulfills the client's business objectives as well as how it supports the needs of the NEXT occupants to determine the overall winner.
"Just like in the real world of design professionals, those that most often win new client projects are those who can best demonstrate their understanding of the client's needs and how their proposed solutions solve for them," said Jerry Holmes, principal, Steelcase. "All five  of the semifinalists did an excellent job of this and it was a very tough and narrow decision; however, is was Chloe who was ultimately selected by the judges."
Though one overall winner was announced, Steelcase recognized all the semifinalists and honorable mentions as they rose to the top of more than 1,000 students who participated.
Cudney and her program will each receive $2,500. Thornburg and the other semifinalists and their programs will all receive $1,250 each. In addition to the prize money awarded, each semifinalist student will receive his or her own custom-designed Steelcase SILQ or Think chair.
Michelle Wempe, also from Marysville, and professor of practice in interior architecture & industrial design, led the studio and marked the second consecutive year that a student in her class achieved top honors. K-State's Kanoa San Miguel won in 2019.
"Steelcase puts together a tremendous teaching tool with the program for the NEXT competition — it challenges students with real-world problems and complex programs in real environments," Wempe said. "Chloe and Reid are both focused students who understand how to research and question the problems they are presented and use that work to create insightful solutions. I am tremendously proud of both Chloe and Reid, along with their classmates, for jobs truly well done. As an alumna who has returned to her roots, it is truly inspiring to see our program and students continue the top-notch work that has been our calling card since the beginning."
Steelcase challenged the students to design a multifloor 11,600-square-foot learning space to support changing behaviors and expectations in a learning environment. The students' project, the "NEXT Hub," is a place that allows members of the community in Washington, D.C., the freedom and resources to come and learn new things, challenge themselves, network with others, and achieve their goals.  View Cudney's design  and  Thornburg's design.
"Two wonderfully talented and involved students, I am not surprised Chloe and Reid were neck and neck in recognition for the top prize," said Tim de Noble, fellow of the American Insititute of Architects and dean of APDesign. "In reading through the email exchange between the faculty and the students, I was reminded not only of how capable both of these students are in their discipline, but how wonderfully supportive they are of each other in their shared academic trajectory, a poignant testament of their ethics and to the mentoring of their faculty."
Steelcase offers a wide range of architecture, furniture and technology products and services designed to help people reach their full potential. Their comprehensive portfolio is anchored by three core brands: Steelcase, Coalesse and Turnstone. Together with their partners, they design spaces to help people work, learn and heal.