February 17, 2020
College of Education's Boggs, McPhail edit book on managing, transforming community colleges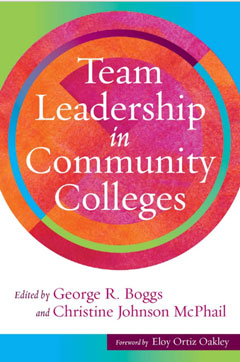 Debbie Mercer, dean of the College of Education, announces two faculty members have edited the first book to address how leaders work with teams to manage and transform community colleges.
George R. Boggs and Christine Johnson McPhail, professors of practice of educational leadership, edited and contributed chapters to "Team Leadership in Community Colleges." Topics covered in the book include leader and team expectations, gender differences in team leadership, assessing leadership teams, workforce development, team development and succession planning in times of crisis and more. The book was released by Stylus Publishers in January.
John E. Roueche, K-State senior professor of practice whose body of work inspired the creation of the John E. Roueche Center for Community College Leadership in the College of Education, offered his praise for the book.
"Flagship community colleges are run by effective leadership teams, and no one knows more about such teams than George Boggs and Christine McPhail," Roueche said. "They have assembled the most experienced and knowledgeable authors of this generation to address the key issues regarding how to select, engage, challenge, coach, collaborate with, and reward members of effective leadership teams."
In addition to their faculty positions at K-State, both editors have extensive leadership experience with community colleges. Boggs is superintendent/president emeritus of Palomar College in California and president and chief executive officer emeritus of the American Association of Community Colleges. McPhail is professor emerita of higher education and founder of the community college leadership program at Morgan State University and former president of Cypress College in California. Both editors are recipients of the National Leadership Award from the American Association of Community Colleges.