February 10, 2020
Call for proposals: inaugural Flint Hills History Conference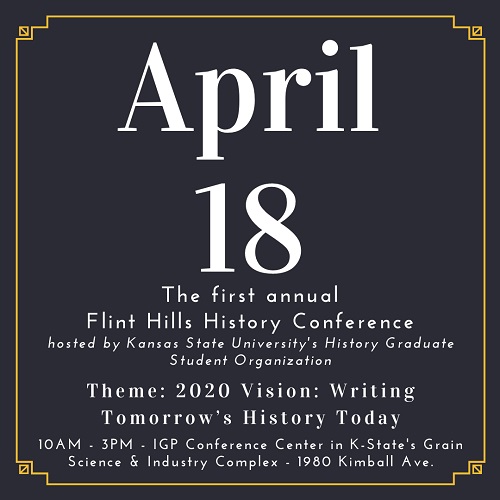 The History Graduate Student Organization at K-State, a registered independent student organization, will host the inaugural Flint Hills History Conference on Saturday, April 18. Senior-level undergraduates and graduate students are invited to participate and submit proposals. The theme is "2020 Vision: Writing Tomorrow's History Today."
Please share this opportunity with your friends and other students who might be interested in submitting a proposal. The extended deadline for proposals is March 15. Applicants are encouraged to submit proposals for presentations regarding scholarly work that makes the best use of modern research and presentation techniques, or research on a historical topic that may shed light on current events.
Submit a 250-word maximum proposal to Bradley Galka, HGSO President, at flinthillshistconf@gmail.com no later than midnight on the deadline day.
The conference will take place from 10 a.m. to 3 p.m. April 18 on K-State's Manhattan campus, at the IGP Conference Center in K-State's Grain Science and Industry Complex. Bonnie Lynn-Sherow will be the keynote speaker.