February 12, 2020
Heather Bailey recognized as Professor of the Week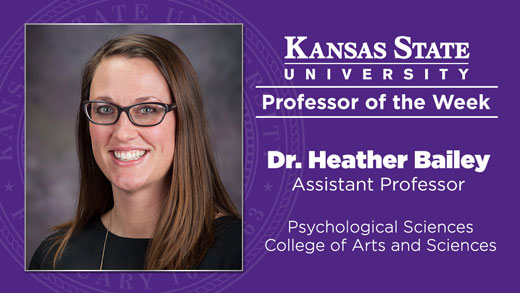 Heather Bailey, assistant professor of psychological sciences, was recognized as Professor of the Week at the Feb. 11 men's home basketball game.
Bailey joined the psychological sciences department in 2013. She teaches a variety of graduate and undergraduate courses in the department, including Cognitive Psychology, Psychology of Aging and Controversial Issues in Psychology. She also serves as the faculty advisor for Psi Chi, the international honor society in psychology, where she mentors outstanding psychology majors on their professional development and preparation for graduate school.
Bailey's research focuses on the strategies people use to learn and remember new information and how these strategies change with age. Her work is supported by a grant from the National Institutes of Health, and she enjoys mentoring undergraduate and graduate students in the laboratory.
Bailey applies the memory research she conducts in the laboratory to help improve student learning in the classroom, and she tries to instill the same passion for learning and memory in her students. Her teaching efforts have been recognized by various awards at K-State including the Stamey Award for Undergraduate Teaching in 2017, the Presidential Award for Teaching Excellence in 2018, and she shared some of her teaching strategies at the 2019 SPOTLIGHT K-State event. Bailey is constantly seeking to learn new teaching strategies and attributes a great deal of her teaching success to the wide variety of opportunities offered at K-State to help junior faculty in their teaching efforts as well as an amazing group of mentors across campus.
The Professor of the Week recognition is coordinated by Faculty Senate, the President's office, K-State Athletics and the Division of Communications and Marketing. Recipients are faculty members selected by Faculty Senate caucuses. Those selected are provided tickets to a men's home basketball game of their choosing and are recognized during halftime. This is just a small token of appreciation for those who teach at K-State.