December 10, 2019
Argentine tango workshops offered Saturday, Dec. 14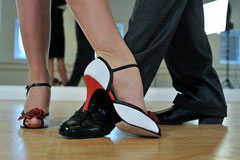 Sponsored by the UFM Argentine tango class, Kirill Miniaev and Sophia Miniaeva from Kansas City's Tango Matiz Studio will lead three afternoon workshops on Saturday, Dec. 14, in 304 Ahearn.
The workshops are for all levels, all ages and no is partner needed. The workshops also are K-State 360 events.
UFM Community Learning Center is a community educational program through Global Campus and K-State's Center for Engagement and Community Development. For more information about the workshops, the class or the Flint Hills Argentine Tango Group, email yogaconnection@gmail.com.