December 9, 2019
Roman Ganta speaks at conference and university in Thailand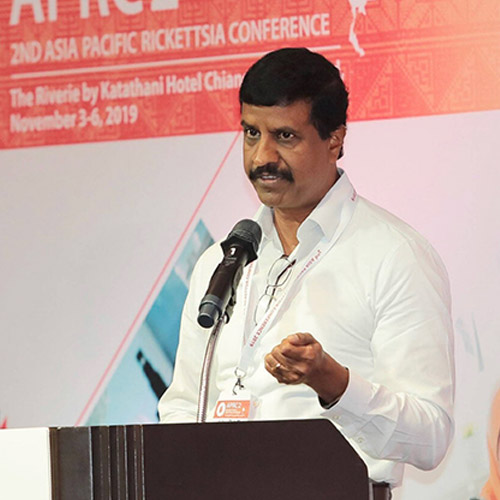 Roman Ganta, K-State veterinary professor, ventured to Thailand in early November to speak at the second Asia-Pacific Rickettsia Conference and foster collaboration with Kasetsart University in Bangkok.
Held in Chiang Rai, Thailand, the conference convenes medical doctors, veterinarians, public health professionals, epidemiologists, diagnostic laboratory personnel, entomologists and scientists. The meeting focuses on rickettsiae and rickettsial diseases, a major cause of illness in humans and animals throughout the world, including in the Asia-Pacific region.
Ganta, who is director of the Center of Excellence for Vector-Borne Diseases, presented his research, "Rickettsia rickettsii whole-cell antigen vaccine offers protection against virulent pathogen infection challenge."
"I interacted with scientists attending the conference from various parts of the world, particularly those working on a disease of importance to Asia Pacific region, scrub typhus, which is caused by the chigger-borne rickettsial pathogen, Orientia tsutsugamushi," Ganta said. "Scrub typhus is an important disease with high fatality rates in people, and it is of great concern for the U.S. military personnel stationed in Asia-Pacific regions."
Afterward, Ganta visited Kasetsart University to discuss collaboration on mutual research interests with Sathaporn Jittapalapong, dean of faculty of veterinary technology.
"Dr. Jittapalapong is an internationally recognized researcher whose research focus is also on tick-borne diseases of importance to companion and agricultural animals," Ganta said. "He works on the development of anti-tick vaccines for use in Thailand and other research areas of mutual interest at the Center of Excellence for Vector-Borne Diseases."
Ganta also gave a lecture to faculty, scientific staff and students on his current research, "Mutagenesis in Ehrlichia and Anaplasma species aids in studies focused on pathogenesis and vaccine development."