December 9, 2019
Zhilong Yang recognized as Professor of the Week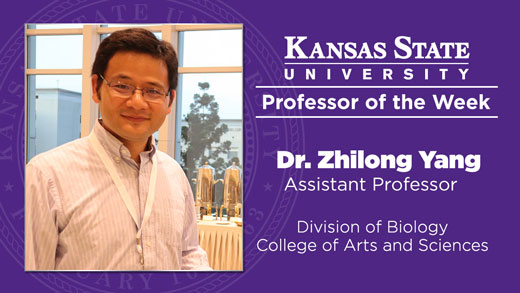 Zhilong Yang, an assistant professor in the Division of Biology, was recognized as Professor of the Week at the Dec. 7 men's home basketball game.
Yang joined Kansas State University in October 2013 and has established an active research program to understand mechanisms governing viral replication. He expects that the discoveries from his research will expand the knowledge of viruses and their hosts, and facilitate developing novel therapeutic and prevention strategies.
Yang's research program has been supported by multiple grants from the National Institutes of Health, including a Research Project Grant, or R01; a Pathway to Independence Award, K99/R00; an Exploratory/Developmental Grant Award, R21; and a Centers for Biomedical Research Excellence Project, P20.
Yang's group mainly uses poxviruses as the model. Poxviruses comprise many pathogens that cause diseases in humans and livestock. They are also of interest because they are used to develop novel therapeutics to treat other infectious diseases and cancers. Yang's group has made a series of important discoveries since he joined K-State.
Yang teaches undergraduate and graduate courses, including Principals of Biology, Advanced Cell Biology and Modern Molecular Approaches. Yang is a passionate mentor of undergraduate, graduate and postdoctoral researchers. Training next-generation scientists is a parallel career goal of his research. He is training or has trained more than 20 scientists in his laboratory. Yang also has served on 16 supervisory committees for graduate students from other laboratories. He emphasizes critical thinking in teaching and mentoring.
The Professor of the Week recognition is coordinated by Faculty Senate, the president's office, K-State Athletics and the Division of Communications and Marketing. Recipients are faculty members selected by Faculty Senate caucuses. Those selected are provided tickets to a men's home basketball game of their choosing and are recognized during halftime. This is just a small token of appreciation for those who teach at K-State.