December 3, 2019
Lalitha Peddireddi receives 2019 Distinguished Service Award
Submitted by Lalitha Peddireddi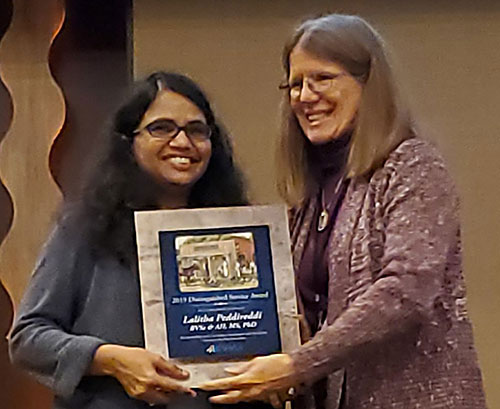 Lalitha Peddireddi, associate professor and section head for the Molecular Diagnostic Laboratory in the College of Veterinary Medicine, was awarded the Kansas Veterinary Medical Association's 2019 Distinguished Service Award.
Eileen Minnix, president of the Kansas Veterinary Medical Association, presented the award to Peddireddi at the association's conference.
Peddireddi earned the award for her outstanding service to the Kansas veterinary profession. She provided testing for foreign animal diseases during investigations of a potential outbreak. It was noted that regardless of what time of day or what day of the week the samples arrive at her lab, she and her staff immediately completed the testing to provide the results to the veterinarians as fast as possible.