November 21, 2019
Poinsettia and amaryllis sale at K-State Gardens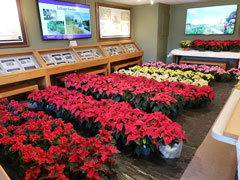 The annual poinsettia and amaryllis sale, which benefits the K-State Gardens, will take place from noon to 5:30 p.m. Friday, Nov. 22; 3-5:30 p.m. Wednesday, Dec. 4; and 11:30 a.m. to 2 p.m. Friday, Dec. 6, at the Gardens' Visitor Center, 1500 Denison Ave.
To preorder gifts for friends, family, or staff, please call 785-532-3271 or email your request to ksugardens@k-state.edu. Otherwise, stop by the Gardens' Visitor Center and select your poinsettias and amaryllis.
Poinsettias in 6.5-inch pots and amaryllises in 6-inch pots are $10 each.
10-inch poinsettia centerpieces are $15 each.
Cash or check only.
Convenient, free parking is available next to The Gardens. Volunteers will be available to assist with walking your plants to your car.