November 19, 2019
Office of International Programs celebrates 2019 International Education of the Year awardees as finale to International Education Week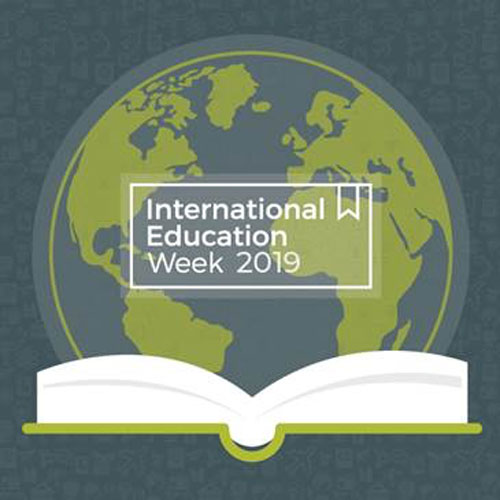 The Office of International Programs invites the campus community to the 2019 International Education Awards Ceremony from 4:30-6 p.m. Thursday, Nov. 21, in the UMB Theater at the Marianna Kistler Beach Museum of Art.
Charles Taber, university provost and executive vice president; Marcellus Caldas, associate provost in the Office of International Programs; and Grant Chapman, assistant provost in the Office of International Programs, will recognize the following 2019 International Education Week award winners.
• International Educator of the Year Award: Socorro Herrera, professor in the curriculum and instruction department, for making a huge impact on countless students across many countries in undergraduate and graduate programs focused on enhancing learning for culturally and linguistically diverse students at K-State.
• International Innovative Education Program of the Year: Mandela Washington Fellowship of Young African Leaders: The Young African Leaders Initiative.
"Kansas State is excited that Sarah Boeving, deputy project director from the Mandela Washington Program, is flying in from Washington, D.C., to attend this ceremony and accept this prestigious award on their behalf," said Trish Gott, interim director of the Staley School of Leadership Studies and assistant professor. "Our university and the Staley School of Leadership Studies has had the honor of hosting 100 of Africa's best and brightest young leaders through this program."
• Outstanding Support for International Initiatives: College of Agriculture for its many successful grant endeavers and research initiatives. The college's efforts have resulted in K-State receiving worldwide recognition as an outstanding research institution. The award will be accepted by Dean Ernie Minton.
• International Collaboration Award recognizing international co-publication collaborations during 2018: A. Sally Davis, assistant professor in the diagnostic medicine and pathobiology department, for a publication with colleagues at the University of Pretoria, South Africa.
As part of the ceremony, an International Education week Fair will feature K-State departments showcasing their international initiatives. The fair will take place in the hallway right outside of the UMB Theater and will feature:
Office of International Programs/Fulbright Australia and Oz to Oz
Education Abroad
International Scholar and Student Services
Staley School of Leadership Studies
English Language Program
International Recruiting
Graduate School
K-State Alumni Association
College of Agriculture
KSU Foundation
Global Food Systems
Nationally Competitive Scholarships
Please consider joining us at the International Education Week Awards Ceremony to celebrate those K-State leaders who are elevating the level of international education at the university.