November 12, 2019
Phillips 66 Business Ethics Case Competition awards $5,000 to K-State students
Submitted by Brent Fritzemeier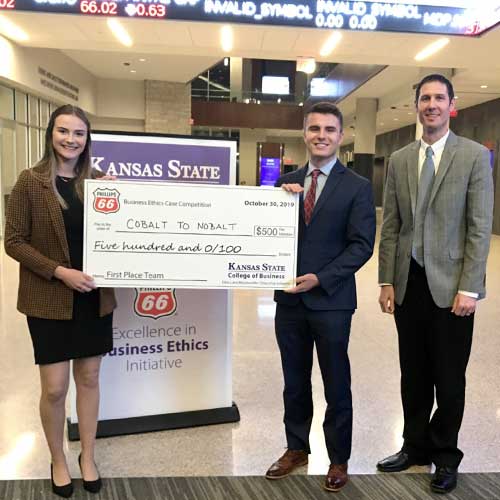 The Kansas State University College of Business Administration recently awarded $5,000 in scholarship money to 19 students as a result of the 2019 Phillips 66 Business Ethics Case Competition.
A total of 274 students representing 80 teams entered the competition, which was organized by the college's Ethics and Responsible Business Citizenship Initiative and sponsored by Phillips 66.
Students were challenged to examine a real-world ethical dilemma and were responsible for analyzing the situation, applying appropriate ethical and strategic management principles, and developing a viable set of practical recommendations. After a contingent of faculty in the department of management evaluated the initial written analyses, six teams were selected to compete in the final round where they presented their analysis and recommendations to a panel of judges.
"Phillips 66 is proud to support the Business Ethics Case Competition and encourages the thoughtful discussion around the way Corporations should operate today," said Seth Sanders, Phillips 66 supervisor IT F&PA and lead campus recruiter. "The presenting groups all did a wonderful job! It was great to see K-Staters take a broader, more holistic view of the corporate purpose and demonstrate how long-term value can be generated for all stakeholders."
The winning team was made up of senior in accounting Nathan Hartter, senior in marketing Kirsten Painter, and senior in finance Taylor Werner. Each member of the winning team received $500.
The second-place team, which was awarded $350 per team member, was comprised of senior in management Nicole Bolte, senior in management Makenna Dandurand, senior in management Jared Grieve, and senior in management Natalie Longhurst.
Taking home third place and $250 each was the team of senior in management Samuel Hummer, senior in management information systems Rebecca Jenkins, and senior in finance Douglas Kellerman.
Members of the remaining three finalist teams received an honorable mention award of $150 for advancing through to the final round. Those receiving the honorable mention designation include senior in finance Tyler Dallam, senior in finance Aaron Gallaway, senior in finance Olivia Mangual, senior in marketing Kellie Gabriel, senior in management information systems Kate Gleason, senior in marketing Wyatt Regehr, senior in management Jacob Schmidt, senior in marketing Karaline Schreiner, and senior in management Hannah Smith.
"This competition provides a unique opportunity for our students to improve their analytical, decision-making and presentation skills," said Bill Turnley, Sam and Karen Forrer chair of business ethics and head of the management department. "The finalists' presentations were very compelling, with recommendations that were well justified and that did a nice job of balancing strategic and ethical concerns. We appreciate the support from Phillips 66 that makes this competition possible."