October 28, 2019
Personal financial planning program shines at annual conference
Submitted by College of Health and Human Sciences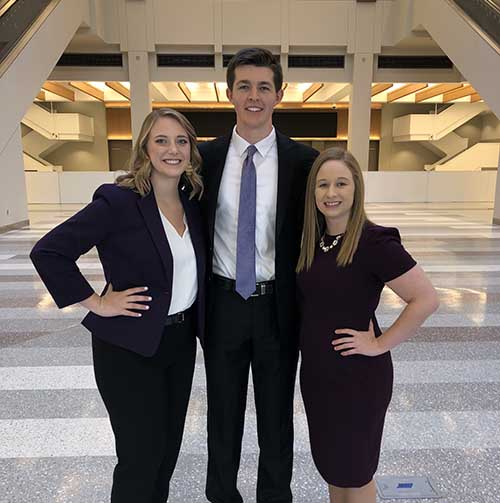 Kansas State University's personal financial planning program saw success once again at the annual Financial Planning Association's national conference. The conference was hosted in Minneapolis, with more than 1,800 attendees.
This year's undergraduate competition team placed second overall in the Financial Planning Challenge. The team was awarded first in the oral presentation and tied for second in the quiz bowl competition. Out of the last 19 years, this is the 13th time the team has finished in the top three overall.
Team members, all seniors, were Emma Hahn, Wichita; Morgan Ziegler, Junction City; and Thomas Meek, Topeka. The team was advised by Roxanne Martens, certified financial planner and instructor of personal financial planning.
Along with the undergraduate competition team's success, doctoral students and faculty were also recognized for their work.
Doctoral students Andrew Scott, Wendy Usrey, Miranda Reiter, and Shane Enete, along with program director Martin Seay, were awarded a best research award for their submitted paper.
Two of the nine papers accepted for presentation at this year's conference were authored by current K-State affiliates, with a third accepted paper written by recent program graduates.
Seay also served as a panelist alongside faculty from three other universities, sharing the work they have done identifying the 12 career paths in the financial planning landscape. He also presented on the main stage in his role of President-elect for the organization.
"We are proud of our students and the legacy they have created as a top program in the country," Seay said. "The sustained success of our undergraduate and doctoral students at the FPA annual conference highlight the role our program plays in elevating the financial planning profession."
The Financial Planning Association is the premier professional organization for Certified Financial Planner professionals, educators, financial services providers and students who seek advancement in a growing, dynamic profession.