October 18, 2019
Choral program hosts Rick Bjella for teaching residency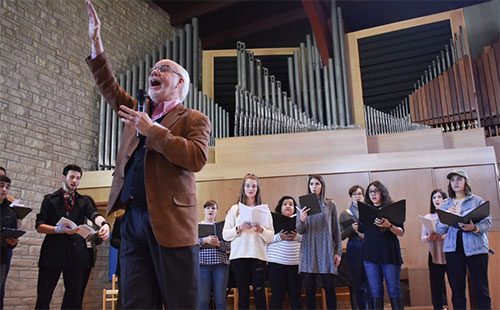 The choral program welcomed Rick Bjella, artistic director for the San Antonio Chamber Choir, to Kansas State University Oct. 11 for a teaching residency with the K-State Choirs where he provided professional development for Kansas choral educators.
Bjella also led masterclasses for graduate conducting students and a clinic for the K-State Concert Choir, which was selected by a peer-reviewed application process to perform at the National Collegiate Choral Organization biennial conference in College Park, Maryland, on Nov. 7.
Bjella formerly served as a professor and director of choral studies at Texas Tech University. Bjella has conducted outside the United States in Prague, Lucerne, Vilnius, Seoul and London, and has guest conducted more than 375 festivals and workshops in 31 states and has led numerous All-State Choirs.
The School of Music, Theatre, and Dance is a part of the College of Arts and Sciences. Visit its website to learn more about music, theatre and dance at K-State.