October 18, 2019
Sonya Lutter named director of the School of Family Studies and Human Services
Submitted by College of Health and Human Sciences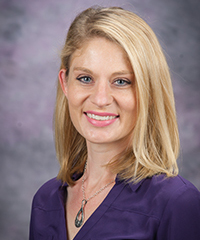 Sonya Lutter, professor of personal financial planning, has been named director of the School of Family Studies and Human Services after serving as the interim for a little more than a year. Her official appointment begins on Oct. 20.
"The search committee received strong endorsement from faculty and staff supporting the appointment of Dr. Lutter as the next director of the School of Family Studies and Human Services," said Michelle Toews, associate dean and search committee chair. "Dr. Lutter's background in both counseling and financial planning, coupled with her desire to build community, are major strengths she will bring to this position."
Lutter received her bachelor's and master's degrees from Kansas State University and her doctorate from Texas Tech University.
Lutter is a certified financial planner professional with training in marriage and family therapy. As a researcher and teacher of financial planning and financial therapy, Lutter explores the role of money in couple relationships, families and for the individual. Her research on money arguments and their influence on relationship satisfaction and divorce and has been referenced in The New York Times, The Wall Street Journal, Kiplinger's and Yahoo! Finance to name a few. Her developmental work in the emerging field of financial therapy is summarized in "Financial Therapy: Theory, Research, and Practice" with co-editors Brad Klontz and Kristy Archuleta. Lutter has applied her research over the last 10 years into a Love and Money curriculum and forthcoming book for young couples.
She has been active in promoting financial literacy and financial well-being on campus, working with multidisciplinary teams to focus on first-generation students, food insecurity, and veterinary and pre-veterinary students. Lutter's work at the financial counseling centers at Texas Tech University and Kansas State University have guided her effectiveness of financial counseling research agenda. Her work with college financial counseling programs culminates with a co-edited book with Dorothy Durband titled, "Student Financial Literacy: Campus-Based Program Development."
"I am extremely excited to have Sonya as the director of the School of Family Studies and Human Services," said John Buckwalter, Betty L. Tointon dean. "She has done an excellent job as interim director and I fully expect that high level of performance to continue as permanent director."
"The School of Family Studies and Human Services has a bright future," Lutter said. "Our programs address relational issues across the lifespan and are great careers for students wanting to help people achieve their goals in a variety of areas including improved relationships, speech development, personal finances, and so much more. I am honored to represent the school going forward."
The School of Family Studies and Human Services offers a variety of programs that are dedicated to making a difference in people's lives. Programs offered include applied family science, communication sciences and disorders, conflict analysis and trauma studies, conflict resolution, couple and family therapy, early childhood education, family and community services, human development and family science, life span human development, personal financial planning and youth development.