October 8, 2019
Submissions open until Oct. 11 for the World Food Day Poetry Contest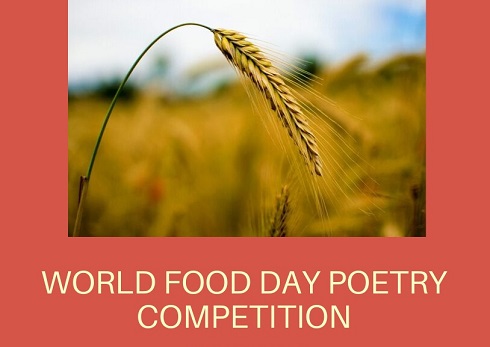 Do you wonder how that starfruit made it to the grocery store?
Do you worry about the weather and if crops are getting enough rain?
Have you milled flour or collected your own eggs or suited up to get honey from bee boxes?
Write a poem about that experience or another global food issue and submit it to the World Food Day Poetry Contest!
Current K-State students, faculty and staff are encouraged to submit one poem in any genre or style, with a maximum length of 50 lines or two manuscript pages, on food and the global food system.
Submissions are due by 11:59 p.m. Friday, Oct. 11, to https://tinyurl.com/kstateworldfoodpoem.
The contest is co-sponsored by K-State Global Food Systems Initiative, the Office of the Vice President for Research, and the Department of English in the College of Arts and Sciences in honor of Science Communication Week, Oct. 12-19.
Prize categories include a student prize — a $250 scholarship for the current academic year — and a faculty/staff prize — a $250 award for professional development.
Winners will be notified by Tuesday, Oct. 15. They will also be recognized at 12:15 p.m. Wednesday, Oct. 16, in the K-State Student Union Courtyard.
"The Global Food System is a complex structure that touches on every facet of teaching, learning and research here at K-State. Science Communication Week is focused on identifying effective ways to share ideas, interests and knowledge," said Maureen Olewnik, Global Food Systems Initiative coordinator. "The World Food Day Poetry Contest provides a unique way of communicating information and strategies as we face mounting challenges in the production of healthy, sustainable food."
Traci Brimhall, associate professor of English and creative writing, will chair the multidisciplinary selection panel of faculty and students. She recognizes the value of pairing art and science in order to support the Global Food System Initiative.
"Food cultivation is a fundamental part of culture," said Brimhall. "It's not only sustenance and nutrition but heritage, ritual, and community. Pairing gastronomy and poetry seems like a natural combination of sensory arts."
More information about the K-State Global Food Systems Initiative is available on its website.
For questions about the World Food Day Poetry Contest, contact the Department of English at english@k-state.edu. To learn more about Science Communication Week 2019, visit the website.