October 16, 2019
UPC and Hillel present Israeli film 'Ushpizin'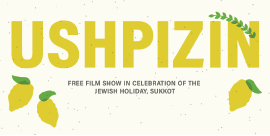 In celebration of the Jewish holiday Sukkot, the Union Program Council and Jewish student organization, Hillel, present a free showing of the film "Ushpizin," translated as "The Guests," at 6 p.m. Thursday, Oct. 17, in the Flint Hills Room, second floor of the K-State Student Union. This comedy-drama is presented in Hebrew and will be accompanied by English subtitles.
After rediscovering his faith and becoming an ultra-Orthodox Jew, Moshe and his wife prepare for the upcoming Sukkot celebration. However, antics ensue when he invites his old friends to stay with him, unaware they are now criminals on the run after escaping jail.
This event is free and open to the public. A light meal will be provided while supplies last. For more information, visit kstateupc.com or call 785-532-6571.