October 17, 2012
Economist presenting fall 2012 Vernon Larson Lecture on Friday
Submitted by Communications and Marketing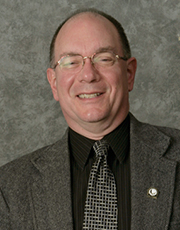 The fall 2012 Vernon Larson Lecture is Friday, Oct. 19, at the Holiday Inn. Sponsored by Friends of International Programs, the buffet lunch begins at 11:30 a.m. for $15. The lecture begins at 12:15 p.m. and is free.
Economist Christopher Kuehl will present "It's the Election — Do You Know Where Your Economy Is Headed?" As we close in on the 2012 vote, the economy worldwide plays a major role. We will spend some time talking about what we do and its impact on the world and what trends in the world impact us.
Kuehl is a managing director of Armada Corporate Intelligence and co-founded the company in 1999. He is the chief economist for the National Association for Credit Management and is on the board of advisers for their global division – Finance, Credit and International Business.
Kuester is the chief editor and one of the writers for the Business Intelligence Briefs, distributed all around the world by business organizations. He also makes nearly a hundred presentations annually to business and industry associations in the U.S. and overseas. He has a doctorate in political economics and advanced degrees in Soviet studies and Asian studies and was a professor of international economics and finance for 15 years before starting Armada.
Visit www.armada-intel.com for a free subscription to Armada Corporate Intelligence.