October 17, 2012
Preregistration open for the Institute for Student Learning and Assessment
Submitted by Frederick Burrack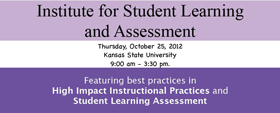 Please preregister for the fall 2012 Institute for Student Learning and Assessment: High-Impact Instructional Practices and Assessment from 9 a.m. to 3:30 p.m. Thursday, Oct. 25, on the second floor of the K-State Student Union.
The institute is designed to develop intentional and integrative strategies that strengthen student learning and exhibit student achievement. It will feature a keynote address by Ann Ferren, senior scholar with the Association of American Colleges and Universities, on "Investing in Quality." The institute curriculum emphasizes high-impact practices — research-supported active learning practices — and campuswide strategies that are engaging to students and effective at improving achievement of learning outcomes.
The institute is open to all K-State faculty, staff, administrators and students, as well as representatives from other Kansas higher education institutions. There is no cost for participating and the institute includes a lunch buffet provided by the provost.
Please submit names and email addresses of those wishing to attend to the office of assessment at assessment@k-state.edu no later than Monday, Oct. 22. The institute is open to the first 150 who preregister. For more information see a condensed Institute Program or the Institute Flyer.