May 6, 2019
Goff receives university award for undergraduate mentoring in research
Submitted by College of Human Ecology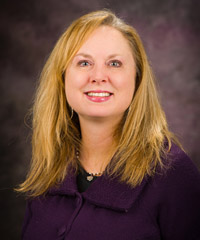 Briana Nelson Goff, professor in the School of Family Studies and Human Services, has been awarded the 2019 University Distinguished Faculty Award for the Mentoring of Undergraduate Students in Research, which recognizes outstanding individual contributions to the development of undergraduates in research projects at Kansas State University. The award is given to a faculty member based on mentoring performed in the previous academic year.
Goff joined the College of Human Ecology in 1998. Her research expertise is with primary and secondary traumatic stress symptoms in trauma survivor couples, families and children, with a specific focus on military- and disaster- related traumatic events.
In 2018, Goff oversaw three research teams under the Couple and Family Functioning in Special Populations program, which focuses on the effects of crisis and trauma on individual, couple, family, and community systems. She says one of the most important aspects of her research has been developing research teams engaging undergraduate and graduate students in the entire research process. Through the collaborative and multidisciplinary approach in her program, the research teams produced 11 refereed publications and presented five times within the year. Since 1998, Goff has mentored 169 undergraduate students through their research journey.
Goff prides herself on engaging students in all aspects of the research experience. She emphasizes the importance of students learning the technical aspects of research, but also encourages them to benefit from the full experience. She aims for students to receive unique and broad research experiences including grant proposal writing and presentation skills.
Goff received her bachelor's degree in psychology and life science and her master's degree in marriage and family therapy, both from K-State. She received her doctorate in marriage and family therapy from Texas Tech University.