Remote-control-focused robotics team wins international competition
Monday, May 6, 2019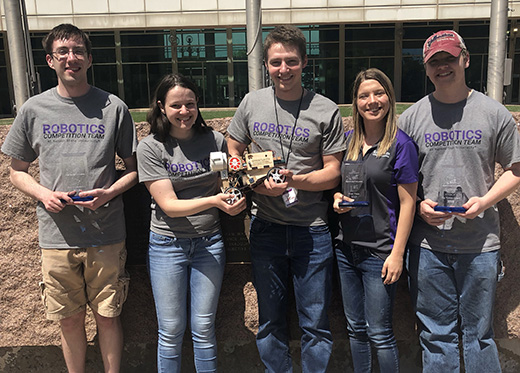 The Kansas State University Mercury Remote Rover Squad with first-place trophies, from left: Reece Berens, Hannah White, Caden Churchman, Abbey Valentine and Jacob Schif. | Download this photo.


MANHATTAN — The Mercury Remote Rover Squad, from the Kansas State University Robotics Competition Team, took first place in the international competition, Oklahoma State University Mercury Robotics Challenge, April 26-27 in Stillwater, Oklahoma.
In addition to the first-place overall award, the squad also won first place among the Big 12 Conference schools and was recognized with the Best Video Award.

The Mercury Remote Robot Challenge is an international, interscholastic robotics competition that challenges competitors to design and build a robot capable of performing a mission. The robot must be operated remotely over the internet from at least 50 miles away, presenting a unique engineering challenge in which electrical and mechanical design, embedded programming, wireless communication and latency all play a large role.

Each team's robot must accomplish tasks such as picking up and launching a pingpong ball, driving through a darkened tunnel, slaloming through obstacles and racing, all while being controlled remotely from more than 50 miles away. The pilots are not in contact with the ground team and must drive using only an onboard camera.

"This is our first time placing in this competition after attending for more than four years," said Trey Schmidt, senior in computer engineering from Wamego and vice president of the robotics team. "We had a good mix of returning and new team members and everyone worked great together throughout the season.

"We were honored to be able to bring the first-place trophy back to Kansas State."

William Hageman, Kansas State University assistant professor of electrical and computer science, is faculty adviser for the team.

Other members of the Mercury Remote Rover Squad include Dustin Wilson, junior in computer engineering, Abilene; Jacob Schif, junior in mechanical engineering, Derby; Luke Ikerd, junior in electrical engineering, Emporia; Isaiah Garrett, senior in computer engineering, Lawrence; Andrew Dunn, junior in electrical engineering, and Brandon Rathburn, senior in mechanical engineering, both from Olathe; Jonah Smith, senior in electrical engineering, Phillipsburg; Caden Churchman, sophomore in computer engineering, St. George; Reece Berens, senior in computer science, Tampa; Whitney Haller, senior in electrical engineering, Topeka; and John Klimiuk, sophomore in mechanical engineering, Wichita.

From out of state: Abbey Valentine, junior in mechanical engineering, Lee's Summit, Missouri; and Hannah White, sophomore in biochemistry, Plano, Texas.