April 26, 2019
Gartner Sales Competition awards $2,250 to students
Submitted by Brent Fritzemeier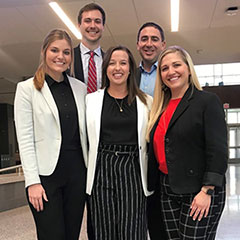 Three students took home $2,250 in cash prizes as part of the recent Gartner Sales Competition, a collaboration between the National Strategic Selling Institute and corporate partner Gartner.
The competition saw 25 students putting their selling skills to the test in a role-playing scenario as a Gartner sales representative. Their role-plays were then evaluated and scored by a panel of judges consisting of three representatives from Gartner: Jeff Stencel, campus recruiting team leader; Lindsay Rucker, midsize enterprise account manager; and Stephanie Shull, associate campus recruiter.
"I am always impressed with the level of talent of the sales students at Kansas State," Shull said. "It is wonderful to see sophomores through seniors participating and at a really competitive level. The depth of questioning and product knowledge on display was really impressive. The executive presence of these students is incredible and something we are always looking for at Gartner."
Finishing in first place, with a cash prize of $1,000, was Cecilia Nancarrow, junior in professional strategic selling. In second place, receiving $750 was Preston Maurer, senior in finance. Rounding out the top three with a $500 prize was Amie Mumma, senior in professional strategic selling.
In addition to their cash prizes, all three students will have to opportunity to participate on the K-State Sales Team in the next academic year. The K-State Sales Team is housed in the College of Business Administration's National Strategic Selling Institute, which has been named one of the top sales programs in the country for seven straight years by the Sales Education Foundation. Last fall, K-State became just the 19th university in the U.S. to offer a major in sales. Students also can earn a certificate in professional strategic selling, which is open to all majors at the university. The professional strategic selling program introduces students to the fundamentals of sales and through the innovative curriculum and sales labs allows students to develop the skills needed to be successful.
For more information on the National Strategic Selling Institute, contact kstatesalesprogram@k-state.edu.