October 8, 2012
Crowning achievement: Amy Button Renz receives first Amethyst Award for extraordinary contributions to university's mission
Submitted by Communications and Marketing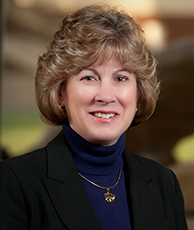 A new university honor celebrating the best of Kansas State University is going to the woman who leads more than 40,000 faithful alumni.
Amy Button Renz, president and CEO of the K-State Alumni Association, is the first recipient of the Amethyst Award, which recognizes extraordinary contributions of those who personify the university's mission of advancing the well-being of Kansas, the nation and the international community.
This means Renz has gone above and beyond to serve K-Staters and possesses a deep responsibility for extraordinary acts of leadership. The award is given only when an individual meets these lofty requirements, and it is not awarded on an annual basis.
"There is no one more deserving of this honor than Amy Button Renz," said Jackie Hartman, the university's chief of staff and director of community relations. "Her passion for Kansas State University, leadership of the K-State Alumni Association and continuous advancement of both entities and affiliates continues to impact our constituents all over the world. Her contributions to Kansas State University and its students, faculty, staff, alumni, donors and friends are truly extraordinary."
A third-generation K-Stater, Renz is a 1976 political science graduate and obtained her master's in public administration from the university in 1986. In 1977 she started working for the association, where she also is secretary of the Alumni Board of Directors. She is responsible for overall management of the association, fund-raising and is the liaison for the board.
The K-State Alumni Association is ranked No. 1 in the Big 12 for the 16th consecutive year for the percentage of graduates who are members. In the 2011-2012 fiscal year, more than 90,000 family members and friends participated in nearly 1,000 association activities offered around the world – nearly 10 percent more than the previous year.