October 8, 2012
Demo model of Dell's new 9010 All-in-One desktop computer in iTAC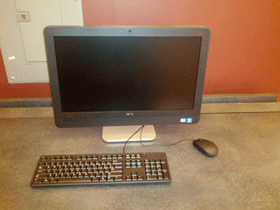 The Information Technology Assistance Center received a demo unit of Dell's new 9010 All-in-One desktop computer — with a sleek, great form factor. Stop by the Information Technology Assistant Center, 214 Hale Library, just outside the IT Help Desk, and take a test drive. It will be available until the end of October.
Contact Nick Brown by phone at 785-532-3419, or email nbrown@k-state.edu with questions.
For more IT news, see K-State's IT News blog at blogs.k-state.edu/it-news.