April 18, 2019
Alpha Tau Omega awards top Mortar Board scholarship to Ashlyn Fisher
Submitted by Communications and Marketing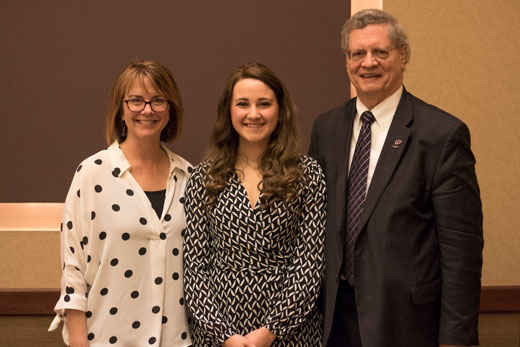 From left: Mary Hale Tolar, Ashlyn Fisher and William Muir at the 2019 Mortar Board New Member Initiation.
Ashlyn N. Fisher, a graduating senior in life sciences and pre-medicine, St. John, is the 11th recipient of the Michael E. Brown Alpha Tau Omega Mortar Board Leadership Scholarship. She was presented the award at the Mortar Board Initiation Banquet on April 14. The award is for $1,000.
The Brown Mortar Board Scholarship was established in 2009 and named for Brother Mike Brown, who has served as treasurer of the Kansas State Alpha Tau Omega Students' Aid Endowment Fund for 31 years and Mortar Board advisor for 13 years.
The award is given annually by the Endowment Fund to a member of Mortar Board who is a K-State student in good standing who is judged to be of good character and sound academic standing and who has substantially and meritoriously contributed to the quality of student life at the university and outstanding leadership in Mortar Board. They are selected by a joint committee of the president of the Endowment Fund, the Kansas State University dean of student life or designee and the director of the School of Leadership Studies or designee
Fisher, Mortar Board president, has made an outstanding contribution to Mortar Board this year. She began early by attending the Mortar Board National Conference in Columbus, Ohio, where she, along with some members of the executive team, took full advantage of the national conference. From networking with alumni to learning best practices of other chapters across the country, she was able to not only generate ideas, but also bring them back to the XIX Chapter of Mortar Board and follow through on their implementation. Her skills in communication and organization are second to none. She has inspired members with the weekly Mortar Board emails, complete with funny jokes, and never shies away from having a tough conversation when necessary. In addition to keeping the chapter running, she has also been a fully active member, never asking the members to participate in something she would not be part of herself. Her ability to balance the present chapter while also thinking about the impact this chapter's decisions will have on future members also speaks highly of her ability to serve on behalf of the common good of the entire organization and not just her own motives. The highest compliment we can give to her is that she makes others' lives easier because of her presence in them. She has a bright future ahead and we are excited to see the difference she will surely continue to make in this world.