October 4, 2012
Register for the Institute for Student Learning and Assessment
Submitted by Frederick Burrack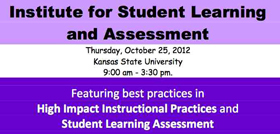 Please plan on joining us on Thursday, Oct. 25, for the Fall 2012 Institute for Student Learning and Assessment: High-Impact Instructional Practices and Assessment. The institute is designed to develop intentional and integrative strategies that strengthen student learning and exhibit student achievement. The institute curriculum emphasizes high-impact practices — research-supported active learning practices — and campuswide strategies that are engaging to students and effective at improving achievement of learning outcomes.
The institute is open to all K-State faculty, staff, administrators and students, as well as representatives from other Kansas higher education institutions.
Please submit names and email addresses of those wishing to attend to the office of assessment at assessment@k-state.edu no later than Monday, Oct. 22.
You will find information and a schedule at www.k-state.edu/assessment/resources/Fall2012Institute.html. Call 532-5712 if you have questions.