April 3, 2019
Landscape architecture professor publishes new guidebook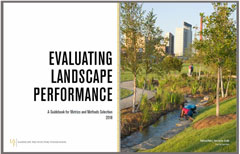 Jessica Canfield, associate professor of landscape architecture in the College of Architecture, Planning & Design, or APDesign, is the co-author of a recently released guidebook, "Evaluating Landscape Performance – A Guidebook for Metrics and Methods Selection."
Developed by Canfield with Bo Yang, associate professor at the University of Arizona, and Heather Whitlow, director of programs and communications at the Landscape Architecture Foundation, the guidebook is the first comprehensive guide to landscape performance metrics and methods.
Landscape performance is a measure of the effectiveness with which landscape solutions fulfill their intended purpose and contribute to sustainability. Canfield and Yang's work was commissioned by the Landscape Architecture Foundation to make landscape performance evaluation more accessible to broader audiences and to improve the research rigor and replicability. The guidebook was developed through coding and analysis of the first 58 case studies published in the Landscape Architecture Foundation's Landscape Performance Series to identify categories of performance benefits. From that analysis, the authors identified specific metrics for three landscape performance categories: environmental benefits, social benefits and economic benefits.
"I am excited to see how the guidebook will be applied and to learn about outcomes from others' landscape performance assessments," Canfield said.
The book is available as a free PDF download, allowing design, planning and engineering professionals and students access to the information to use in their work.
Kansas State University faculty and alumni who provided assistance on the guidebook include Tim Keane, professor of landscape architecture, and Katherine Leise, 2015 Master of Landscape Architecture graduate.