April 3, 2019
Reminder: 'The Loveliness of Air — I Can't Breathe' performance based on writings from children in Nazi concentration camp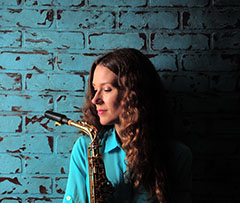 Anna Marie Wytko, associate professor of saxophone, will present the Kansas premiere of "The Loveliness of Air" at 7:30 p.m. Thursday, April 4, in the UMB Theater in the Marianna Kistler Beach Museum of Art.
A second performance is scheduled for 2 p.m. Sunday, April 7, at the Volland Store in the Flint Hills. Both concerts are free and open to the public. Due to the thematic nature of the work, it is recommended that children under the age of 10 do not attend.
Read the original K-State Today announcement.
Faculty in the School of Music, Theatre, and Dance have received Grammy Awards and Nominations, and Emmy Awards; produced recordings on international and national CD labels and published books and journal articles with international and national publishing houses and professional organizations; and performed and presented research in every continent in the world except Antarctica. The School of Music, Theatre, and Dance is a part of the College of Arts and Sciences.