February 1, 2019
Real Food Lunch today at ECM
Submitted by Christian Watkins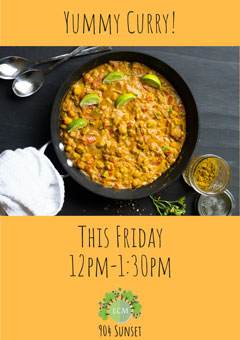 Join ECM, a registered student organization, for a homemade vegan meal from noon to 1:30 p.m. every Friday at 904 Sunset Ave. Each week a different meal is served. This week, we will have red lentil curry, chickpea curry, white rice and garlic naan.
A $2 donation is suggested, but do not let that stop you.
If you would like to join us to cook the meal, reach out to revwatkins@k-stat.edu. We cook every Thursday night in preparation for the Friday meal. ECM has a fully stocked kitchen for student groups to share recipes — and yummy meals — from home, if you have a dish you would like to share.