November 26, 2018
K-State Air Force ROTC cadets receive orientation flights from Fort Riley's Combat Aviation Brigade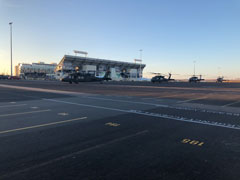 K-State Air Force ROTC cadets recently received orientation flights in Black Hawk helicopters from Fort Riley's Combat Aviation Brigade to let them experience joint operations in the U.S. military.
Four UH-60 Black Hawk helicopters landed in the east parking lot of Bill Snyder Family Stadium and took groups of cadets for a flight around Manhattan and the surrounding area. It was a great opportunity for the cadets to see how flying differs between the military and civilian world, as well as the difference between rotary and fixed-wing flying.
"You really just don't get this experience anywhere else," said Cadet Kohl Case, junior in supply chain management. "Having this opportunity during college is just a foreshadowing of all the amazing opportunities and experiences we will have as officers in the Air Force."
The Air Force cadets also had the opportunity to work side by side with their Army counterparts and see the importance of working as a joint force and working toward the common goal of "One team, one fight."