November 26, 2018
K-State CrossFit club raises money for Wounded Warrior Project
Submitted by College of Human Ecology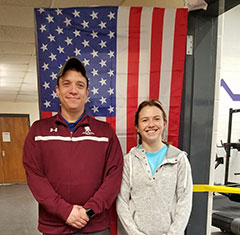 The K-State CrossFit club, housed in the kinesiology department, recently hosted a CrossFit competition to benefit the Wounded Warrior Project.
"The CrossFit club wanted to show veterans that they are highly appreciated for all of the work they do and have done to defend us here at home," said Korynne Rollins, president of the CrossFit club. "This competition was our way of giving back while involving community members and raising awareness for the Wounded Warrior Project."
Eight teams competed, some traveling from as far as Wichita. The teams of two completed six workouts over the two day period. Workouts included events such as front squats, push jerks, partner deadlifts and a team swim.
After two days of competition, Alex Agler and Jacob Behrhorst from Team Vertical Differences took home first place in the male division. Adriana Molina and Jessa Voos from Team Konza Strength secured first for the women's division.
From the eight teams — along with a contribution from the kinesiology department — a donation of $500 will be made to the national Wounded Warrior Project. This was the first year for the competition but with its success, will likely be continued each year.
The kinesiology department is in the College of Human Ecology. Kinesiology is the study of physical activity across a range of tasks including exercise, daily living, play, sport and work. The department combines both scholarship and professional experience to advance the education of their students.
Students may earn a Bachelor of Science in kinesiology or a dual Bachelor of Science degree in kinesiology and nutrition. The program also offers multiple graduate degrees.