October 11, 2018
Future teachers to screen 'Refuge in the Heartland' documentary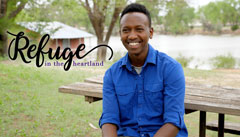 Future teachers attending the College of Education's annual Education Symposium on Thursday will be the first to screen the college's 2018 documentary "Refuge in the Heartland" at 1 p.m. in Forum Hall at the K-State Student Union.
The documentary takes an in-depth look at how teachers and administrators in Wichita are acculturating students with refugee status. The film took a year to produce and will serve as a resource for educators worldwide who have refugees or immigrant students in their classrooms.
"Working on this film has been such an honor," said Rusty Earl, College of Education videographer. "To meet with such passionate educators and community members who are making a difference in the lives of refugee families has been a thrill. The lessons learned will stay with me throughout my life. For anyone thinking about going into education or someone wanting to more to know a more about refugee resettlement, this film is for you."