May 11, 2018
College of Education documentary to air Sunday on KCPT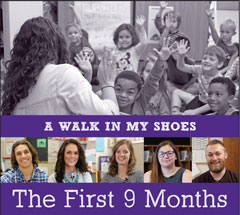 Who knew teachers cry after school when they learn a child is not returning to their class? Who knew if you put letters in the freezer before school kindergarteners will believe they are really from Santa?
Join us for these and many more memorable moments as the College of Education's documentary "The First 9 Months" chronicles the challenges and triumphs of five first-year teachers. It airs at 1 p.m. Sunday, May 13, on KCPT 19.1 HD. The film is the latest installment in the college's series "A Walk in My Shoes."
The teachers were given camcorders and recorded video journals that captured events and moments that will define their first-year experience.