April 10, 2018
Not exhibiting at the K-State Research Showcase? You can still register to attend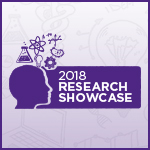 Curious about the 2018 Research Showcase at K-State Olathe? Faculty, staff, student or postdoctoral researchers, and others who didn't want to exhibit but would like to attend are invited to join us from 4-6:30 p.m. May 16 at 22201 W. Innovation Drive in Olathe.
More than 75 K-State exhibitors have registered for the event in several categories aligned with KC-area industry needs:
Global food systems;
Animal and human health and nutrition;
Engineering and technology, including construction, architecture and software;
Life sciences and analytics, including sensory analysis and consumer preferences and behavior;
Workforce development and diversity; and
Agreements, development and intellectual property.
The event is designed to help industry professionals explore K-State research capabilities, technologies and facilities in an effort to build partnerships. The showcase also will celebrate K-State's record of contributing to economic prosperity in our state and region.
Drinks and appetizers will be provided. Read more about the event or register to attend. If you have questions, contact Kiley Moody at kmoody@k-state.edu or 785-532-3892 or Sarah Hancock at sarhan@k-state.edu or 786-532-5045.