April 3, 2018
Lights, camera and action: K-State 48 Film Festival premiere event Thursday, April 5
Submitted by K-State 48 Film Committee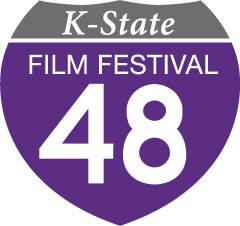 Lights, camera and action! Come be a part of the K-State 48 Film Festival and support 13 wonderful student films. A special red-carpet premiere and awards ceremony will start at 6 p.m. Thursday, April 5, in Town Hall at the Leadership Studies Building. The event is free and open to the public.
The films are created by K-Staters — in only 48-hours — with students vying for more than $10,000 in audio/video equipment, thanks to companies Koll Ltd., Miller Camera Support, LLC and RODE Microphones.
This year, the festival announces competition judges Don Kang, Nick Abt and Jim Mock. Kang is a video producer for Dymax Inc. and co-founder of the FilmMHK@MAC group, a Manhattan-based filmmaking club working to connect cinema creators across the region. Abt is the owner of Abt Films, a Wichita-based company providing modern design and cinematic videography services throughout the state. Mock brings his considerable industry experience, 45 plus years in broadcast television and production services back to K-State, having served as the director of video services for the Division of Communications and Marketing for 24 years before his retirement in 2016.
In addition to first, second and third place, an audience choice award, a vote open to all in attendance that evening, will round out the festivities. Come be a part of the competition and support upcoming K-State student filmmakers as they showcase their talents.