April 3, 2018
'Best of Times, Worst of Times: K-State in 1968' opens tomorrow
Submitted by Sarah McGreer Hoyt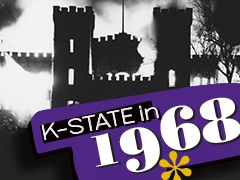 Join the K-State Alumni Association and K-State Libraries from 1:30-2 p.m. Wednesday, April 4, for a tribute to the life and legacy of Dr. Martin Luther King Jr. Students, faculty and friends are invited to gather at the MLK bust on the east side of Ahearn Field House to reflect on the 50th anniversary of the assassination of King.
Following the short program, visit Hale Library's fifth floor to view the new exhibit, "Best of Times, Worst of Times: K-State in 1968."
"The year many called 'the best of times and the worst of times' is gone," K-Stater Dave Slead wrote in his Jan. 6, 1969, Kansas State Collegian column. "Many tragedies, many hopes of bettering world and national conditions took place in 1968."
The exhibit uses items from university archives in the Morse Department of Special Collections to illustrate the various events of that tumultuous year. The installation also features loans from K-State's Historic Costume and Textile Museum and from Ralph and Mary Ellen Titus.
During the 1960s, activism and antiestablishment sentiment swept college campuses, and K-State was no exception. Major issues included the Vietnam War, civil rights, Black Power, second-wave feminism, changing sexual mores and student empowerment.
From campus visits by Martin Luther King Jr. and Robert Kennedy to the mysterious fire that destroyed Nichols Gym, the exhibit explores how national issues played out here in Manhattan, Kansas, alongside traditional university activities.
The co-curators of the exhibit are Cliff Hight, university archivist, and Dan Ireton and Ellen Urton, academic services librarians. "Best of Times, Worst of Times: K-State in 1968" will run through Oct. 18.