March 29, 2018
Visiting entomologist to discuss novel approaches to managing insect pests and disease vectors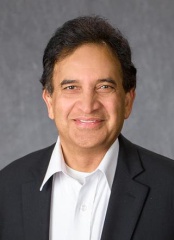 The K-State entomology department will host Reddy Palli from the University of Kentucky as the 2018 Hopkins Colloquium Speaker.
Palli will present a seminar, "RNAi in Insect Control: Opportunities and Challenges," at 1 p.m. Thursday, March 29, in the Wildcat Chamber of the K-State Student Union. All are invited to attend. Light refreshments will be served.
Palli is an internationally recognized expert in insect physiology and the application of novel molecular methods to managing serious insect pests and disease vectors. He received his doctorate from the University of Western Ontario in 1987. He is an author on more than 140 refereed papers, 21 books and book chapters and 28 patents. He has been recognized with numerous awards and is a fellow of the Entomological Society of America.
The Hopkins Colloquium Speaker is an annual award established in 1998 to honor Theodore L. Hopkins, emeritus professor of entomology at K-State, for his many contributions to the science of entomology. The award supports the visit of a distinguished scientist who works in an area of current importance and interest, and who will bring new and important research in entomological science to campus.