March 28, 2018
Stop by the Union for free insomnia cookies and an opportunity to support Kansas military service members and families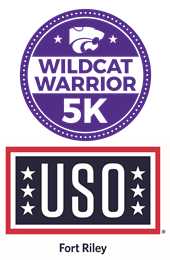 The K-State Wildcat Warriors, a registered student organization, will be at the K-State Student Union from 10 a.m. to 3 p.m. Wednesday, March 28, and Thursday, March 29, to share information about the upcoming Wildcat Warrior 5K. The organization also will have on-the-spot registration and free insomnia cookies for those who sign up.
The Wildcat Warrior 5K will take place at 9 a.m. Saturday, April 14, at Tuttle Creek State Park.
Registration is available online. The registration cost has been cut in half for students, so it is only $15. Students can use the code "STUDENT" to receive the discount. This price includes a T-shirt and snacks following the race. T-shirts are not guaranteed after April 1.
The K-State Wildcat Warriors is a campus organization comprised of students pursuing a commission in the U.S. Armed Forces. The foundational goal of the Wildcat Warrior 5K is to give back by honoring our nation's service members and their loved ones. This year, the Wildcat Warriors are donating their proceeds to United Service Organization Fort Riley. The USO strengthens America's military service members by keeping them connected to family, home and country, throughout their service to the nation. USO Fort Riley is the only center supporting the entire state of Kansas.
Please contact the Wildcat Warriors via Facebook or email kstatewildcatwarriors@gmail.com for more information.