March 21, 2018
K-State recognized by Phi Theta Kappa Transfer Honor Roll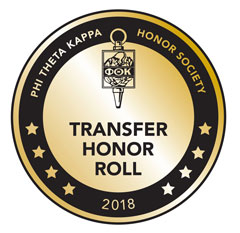 Kansas State University has been named for the second year in a row to Phi Theta Kappa's Transfer Honor Roll for providing an excellent experience for transfer students.
"Helping students meet their educational needs and make a smooth transition to the university, no matter what their path, is a proud part of K-State's heritage," said Pat Bosco, vice president for student life and dean of students. "As a former transfer student to K-State, I am thrilled by our university's designation to the honor roll for the second year running. With the help of strong partnerships with our state's community colleges, we will continue striving to provide opportunities and academic support for transfer students, who are a vital part of our K-State community and tradition."
The award recognizes institutions that support community college transfer through partnerships, academic and support programs, admissions outreach, opportunities for student engagement, scholarships and financial aid, and transfer innovations.
"In order to ensure their continued success, the Transfer Honor Roll Program identifies colleges and universities that understand the unique needs of transfer students and applauds the dynamic pathways these colleges have created to continue fostering student success among transfer students at the four-year college," said Lynn Tincher-Ladner, Phi Theta Kappa president and CEO.
K-State is one of 112 universities and four-year colleges being recognized for promoting engagement, collaboration, impact and achievements related to the transfer of community college students.
"Transferring from Fort Scott Community College to Kansas State University has been an amazing experience," said Cara Comstock, senior in animal sciences and industry. "Going to a university can be daunting, but K-State truly is a family. Besides great classes, there are so many opportunities to get involved with everything from clubs to academic research projects to intramural sports. I'm so glad I made the choice to become a part of the K-State family!"
Phi Theta Kappa is an international honor society that recognizes students pursuing a two-year degree. Headquartered in Jackson, Mississippi, it has more than 3.5 million members worldwide and nearly 1,300 chapters in nine nations.