March 13, 2018
Distinguished plant biologist to deliver Provost's Excellence in Scholarship lecture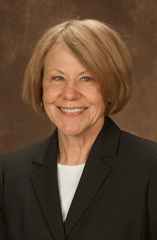 Barbara Schaal, dean of the faculty of arts and sciences and the Mary-Dell Chilton distinguished professor at Washington University in St. Louis, will be on campus March 15-16 to share her knowledge with the K-State community as the next Provost's Excellence in Scholarship lecturer.
Schaal will present "The future challenges to agriculture and the importance of basic research in plant sciences for addressing those challenges" at 9:30 a.m. Friday, March 16, in the Big 12 Room at the K-State Student Union.

Schaal was born in Berlin, Germany, and grew up in Chicago, Illinois. She graduated from the University of Illinois, Chicago with a degree in biology and received a doctorate from Yale University. She is a plant evolutionary biologist who uses DNA sequences to understand evolutionary processes such as gene flow, geographical differentiation and the domestication of crop species. Her current research focuses on the evolutionary genomics of rice.
Schaal has been president of the Botanical Society of America, the Society for the Study of Evolution and the American Association for the Advancement of Science. She is an elected member of the Academy of Arts and Sciences and the U.S. National Academy of Sciences where she served as vice president for eight years. She was appointed as a U.S. science envoy for former Secretary of State Hillary Clinton. Schaal has served a chair of the Division of Earth and Life Sciences at the National Research Council and was a member of President Barack Obama's Council of Advisors on Science and Technology from 2009-2017.

Chuck Rice, soil microbiologist and university distinguished professor, is Schaal's host during her visit, along with the agronomy department and the Office of the Provost. Schaal also will present "Science and technology for the public good" at 3:30 p.m. Thursday, March 15, in 1018 Throckmorton Hall.

The Provost's Lectures on Excellence in Scholarship series brings to campus scholars who have achieved special recognition and prominence in their field of study and who are also engaging speakers with broad appeal to the K-State community. Speakers typically share two presentations, one that is broad in scope and tailored to the campus as a whole, with the other a more technical presentation for a targeted audience. The speakers are chosen by the University Distinguished Professors and the series is sponsored by the Office of the Provost. Presentations are aired over cable channel 8 and video recordings will be available online.